Small Organized Spaces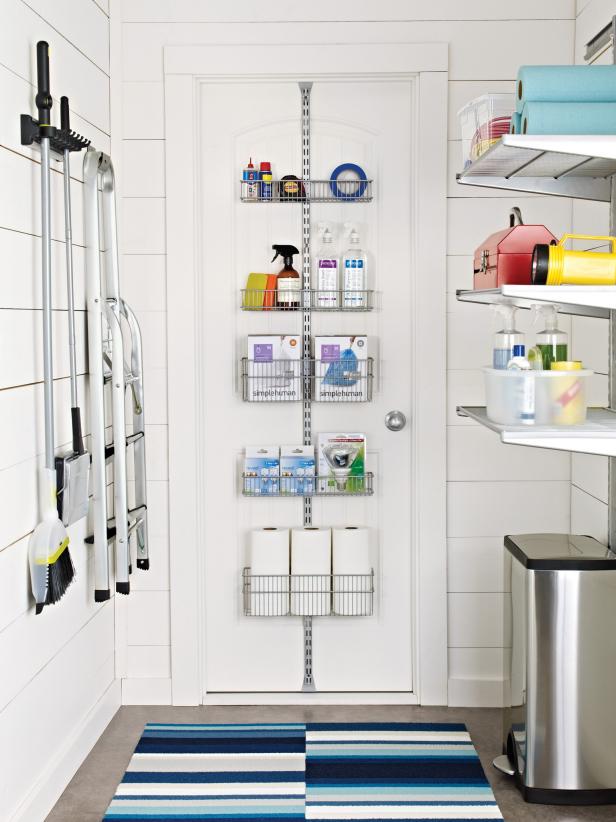 It's Monday the beginning of a new week. That means a fresh start & maybe, just maybe you're working on some organizing this week! A few weeks ago my fiancé was out of town, so I took it upon myself to start getting everything organized & in order around the house. Opportunity was calling! I didn't take any before pictures, but I took plenty of after pictures.
Keep scrolling to see how I organized the laundry room, under the sink, the pantry, the coat closet & the hall closet.
I stash laundry stuff, obviously, & extra cleaning supplies on the shelves in here. I used tin cans, mason jars, & wire baskets for some prettier organization. I like to save as many dryer sheets as possible & use for them other things like dusting the baseboards…which I actually haven't done yet, but I'm sure someday I will. There's extra lightbulbs in top tub too. My favorite part? The tide pods in the mason jar & the dryer sheets in the basket. They look adorable & are easier to grab that way. Functional & adorable! What more could a girl want in her laundry room?
On the other shelf is my cute sign (Hobby Lobby), a basket of dusting supplies, & larger bottles of cleaning supplies for refills. I love love love the fact that there's a rod in here. It's makes hang-drying so easy.
There's a perfect amount of space for me to hang up mops & brooms. The vacuum fits snug in-between too. I even have a tiny trashcan tucked in the back corner. Every laundry room needs a trashcan!
On the opposite wall I have a really cute shelf me & Michael painted long ago along with a pretty laundry basket for throwing in dirty kitchen towels. You can see what I store in all the drawers. A few feet down in the door & I store the ironing board behind it for now. I'd like to hang it up on the wall eventually.
Now onto the sink!
I'm sure you all know, there is precious storage space underneath the sink! Luckily, I don't have too big of a cleaning supplies collection yet. But if I did, I'd use those locker shelves to add a second shelf underneath here. Or maybe add a tension rod to hang bottles on. W'ell see! For now I use some baskets I grabbed out of the One Spot at Target for tidying up.
All the way in the back I have a white bucket filled with soap refills & extra sponges. Then I keep my dish drying junk up on the side. I like to keep it off the counter when not in use. The floor cleaner stands in front.
On the opposite end I keep a huge refill bottle of dish soap then detergent, my scrub brush in the red pig & a smaller bottle of dawn that I refill with the big bottle. I'm constantly grabbing those two items in the front so they're there for easy access.
I have 6 of these plastic baskets holding cleaning supplies. I tried to stick like things together & put the most used things in the front set of baskets. It works well for me at this point.
My favorite, the pantry. While one day I'd love to have clear glass containers all perfectly labeled, I made due what I had for now.
My future mother-in-law gifted me with all these old baskets she was getting rid of a couple of months ago & I'd been saving them for some project. They got put to good use corralling loose items in the pantry. You could go to the thrift store & find a sturdy collection of baskets for under a dollar each & use them in the same way. Take a look at where everything is in here.  I love looking at organized pantries. Am I the only one?
The closets are a little more boring, but organized none-the-less!
I have a side & he has a side. We both have bins for shoes & a drawer for other random things like scarves & mittens or hats. Plus some luggage & some tubs …